Swindon Skips fire at tip still burning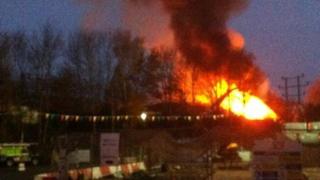 A fire on a Swindon industrial estate could continue to burn for four more days, the fire service has said.
Crews were called to Swindon Skips on the Cheney Manor Industrial Estate on Wednesday evening.
Nobody was injured in the fire which involved 750 tonnes of wood and waste.
Jason Underwood, from Wiltshire Fire and Rescue, said: "There's still a smoke plume blowing over the Swindon area and I'd advise members of the public to close doors and windows."