Coroner calls for 'legal high' ban after death of Swindon man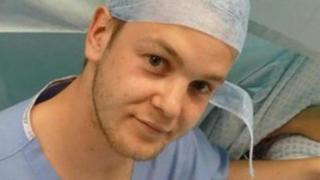 A coroner is to write to the Home Secretary asking for a ban on a "legal high" drug known as AMT following the death of man from Swindon.
An inquest at Salisbury Coroners Court ruled the death of Christopher Scott, who was 23, was drug related.
He took two green pills during a night out in Swindon, which tests found were alpha-methyltriptamine, known as AMT.
Mr Scott had bought the tablets from a friend and died in hospital five days after taking them, last July.
Coroner David Ridley said he will write to Home Secretary Theresa May with his concerns about the death and another fatality involving AMT which occurred in Dorset.
He said if Ms May does not consider banning the drug, he will want to know why.
Mr Scott's father Michael said: "The term legal high is very misleading. Once you start saying it's a legal thing people assume it's been tested and is fine to use.
"You get the misconception that it's an OK thing.
"These legal highs are not worth the risk. It's like playing Russian roulette out there now."
On Thursday Mr Scott's family is due to meet Conservative MP for South Swindon, Robert Buckland, who has been campaigning for AMT to be banned.