Gold coin found in Wiltshire field expected to make £30k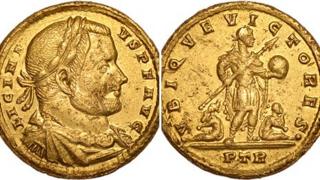 A 1,700-year-old Roman gold coin dug up in a field in south Wiltshire, is expected to fetch £30,000 at auction.
Found by a metal detecting enthusiast, the coin dates from the reign of Emperor Licinius I.
One of only four known examples, the coin was struck for the emperor in AD 313 to distribute at special occasions
The enthusiast, who wishes to remain anonymous, said he "thought it was the foil from a packet of Rolos" when he first pulled it out of the mud.
'Glint of gold'
On the day it was discovered, the enthusiast said he was heading to a dig organised by his metal detecting club in south Wiltshire.
Arriving late, he missed the club meet and "rather than waste the day" decided to stop at another site in the county on his way home.
After an hour and a half of trudging through rain and mud, he headed back to his car.
"I had not had a single signal for about 15 minutes when I got a slight response, one that any detectorist will tell you is not worth digging," he recalled.
"However having had so very few signals for a while, I decided to dig it up.
"Six inches down I dug out a clod of earth and sticking out of the side was the unmistakeable glint of gold."
Just 21mm (0.8in) in diameter and weighing 5.32g (0.2 ounces), it bears the head of Licinius I on one side and depicts him standing between two captives holding a spear on the other.
Above is the triumphant slogan 'ubique victores' - 'everywhere victories'.
"This is an incredibly exciting discovery which was made in the most unpromising circumstances," said Christopher Webb, from auctioneers Dix Noonan Webb.
"The three other known examples of this type are in The British Museum, the Hunterian Museum in Glasgow and the Ashmolean Museum in Oxford."
The coin is due to be sold in London on 5 December.