Chiseldon village's replica Iron Age cauldron unveiled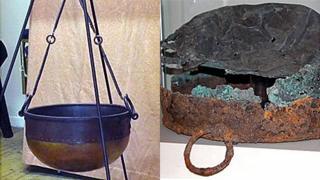 A full-size replica of an Iron Age cauldron found in a Wiltshire field as part of "the biggest Iron Age find to date" has been unveiled.
The large cauldron is one of 17 found by a metal detector enthusiast near the village of Chiseldon in 2004.
The cauldrons, described as "too fragile and important ever to return to Chiseldon", are at the British Museum.
But in 2011, a local history group commissioned an exact copy to be made as a lasting memory of the find.
The bronze and iron vessels, excavated by the British Museum and Wessex Archaeology, were discovered "carefully placed" in a pit along with ox skulls.
"At first we thought there would only be one or two cauldrons but to find this many is without parallel, not just in Britain but across all of Europe," said Dr Andrew Fitzpatrick, of Wessex Archaeology.
"It's a unique find - but they're very fragile and aren't really in a condition to go on display."
'Top range cauldron'
With the Chiseldon cauldrons, never expected to return to the village, local residents raised £2,000 to commission local blacksmith Hector Cole to make an exact replica.
"The tools don't change, the techniques don't change, I did exactly the same as the original makers would have done," said Mr Cole.
"There are 17, and the one they liked was one of the more expensive cauldrons.
"It's a top of the range cauldron. Whichever tribe owned it, they were important."
The replica cauldron was unveiled at the weekend and is due to go on permanent display at the village museum, next year.