Bid to save Langley Fitzurse primary school bell tower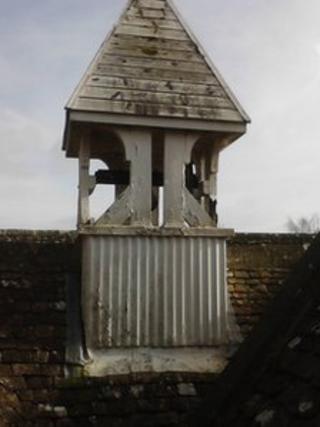 Villagers have come together in a bid to save a 157-year-old bell tower at a Wiltshire school.
The structure, at Langley Fitzurse primary, in Kington Langley near Chippenham, is facing demolition after falling into disrepair.
An auction will be held later in a bid to raise £8,000 for repairs.
Tora Edmonds, from the school's PTA, said villagers had fond memories of the bell calling children to school and pupils ringing it on their birthdays.
"It's a lovely memory for the villagers and we want that for our own children," she said.
Mrs Edmonds, who runs Chippenham Auction Rooms, said: "The bell tower itself has been in disrepair for a number of years - the bell is fine - and we've been advised by the council that it needs to be demolished.
"It dates back to when the school was built in 1856.
"At the moment we're collating a number of quotes to see how much we need to raise, but we know it will be in the thousands.
"There's a lot of elderly villagers who remember ringing the bell on their birthday. It was a tradition. And the bell called children to school in the mornings.
"It's just something we think is a piece of our villagers' history and we would like to hold on to that really."
The auction will be held at the village hall at 20:00 GMT.