Deserted Imber village church limits Christmas congregation to 250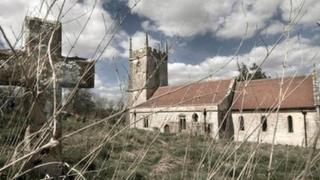 An abandoned Wiltshire village's church service has become so popular it has had to limit congregations to just 250.
St Giles Church, on Salisbury Plain, is the only building left intact after the Army took over the isolated village of Imber for training in 1943.
Still used by the military, access to the village is only given on a handful of days each year including Christmas.
But Neil Skelton, a custodian, said for health and safety reasons it was having to charge worshipers a fee to attend.
In December 1943, the entire civilian population of the village was ordered to pack up and leave to provide a training area for American troops preparing for the invasion of Europe during World War Two.
In just over a month the area was evacuated and the village literally vanished from the map and now resembles a ghost town.
But for two weeks over Christmas, the Ministry of Defence will be lifting security and allowing civilians back into the deserted village.
And on 21 December, the Grade I listed church will be holding its annual Christmas service but people wanting to attend will need to buy a ticket in advance.
"The church was packed to over capacity last year and we were a bit concerned from a health and safety point of view," said Mr Skelton.