Graham Anderson unlawfully killed sons Jack and Bryn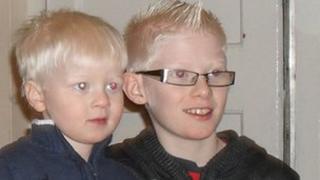 An inquest into the deaths of a father and his two young sons in Wiltshire has found that the boys were unlawfully killed.
Graham Anderson, 36, and sons Jack, 11, and three-year-old Bryn were found at a flat in Tidworth in September last year.
At the inquest in Salisbury the coroner said it was most likely the boys were smothered by Anderson.
The coroner found he had committed suicide by hanging.
Custody battle
The inquest heard that Anderson, a former lorry driver, was heavily in debt and was known to have drug and alcohol problems.
He was also facing a custody battle with the mother of the boys, Victoria Jones, who lived in Andover, Hampshire.
Coroner David Ridley said state agencies could not have known the children were at risk of death.
Earlier a home office forensic pathologist told the hearing it was likely the two young boys were "suffocated or smothered".
Amanda Jeffrey said a sleeping drug found in their blood may also have played a part in their deaths.
The coroner said it appeared that Anderson had attempted to cut Jack's throat before smothering him in a 10-minute struggle during which Jack's screams were heard by a neighbour.
The boys' maternal grandfather Nick Jones said he believed Anderson killed the two boys out of vengeance because his daughter had left him and he was "losing control".
Mr Jones said: "When we heard the news of what this man had done to our grandsons the world changed for us. It will not be the same again.
"Our eldest daughter's life has been ruined and the knock-on effect to our family is too difficult to describe."
'Harrowing inquiry'
Anderson's brother, Adrian Bernhard, said: "We as a family are still finding it hard to come to terms with what has happened.
"It has turned our lives upside down and I don't think they will ever be the same again. We are completely devastated by this tragic event."
Det Con Chris Conway, who led the investigation, said: "It was a harrowing inquiry and it is clear from the inquest that Bryn and Jack died at the hands of their father.
"It is clear that Graham Anderson presented himself to the authorities as a caring and devoted father.
"A custody review hearing was to take place on September 6, which may have had a bearing on matters and he may have considered that his custody of the children may have been brought into question.
"It is clear from the inquest that no-one, including his family and the authorities, could have foreseen the actions of Graham Anderson."