Tidworth deaths: Graham Anderson and sons faced eviction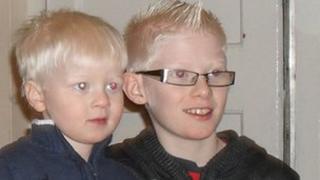 A man and his two sons who were found dead at a flat in Wiltshire were about to be evicted due to unpaid rent, an inquest has heard.
Graham Anderson, 36, and sons Jack, 11, and three-year-old Bryn were found in separate rooms at the property in Tidworth in September last year.
It is thought the boys were killed by their father who they had lived with after he was granted a residence order.
The inquest in Salisbury heard Mr Anderson was "devoted to his children".
The boys' social worker told the inquest he had never seen anything to indicate the children might be at harm and described Graham Anderson as a "calm man".
'Stressed'
The inquest was told the boys' father had been having problems sleeping and was "stressed about ongoing custody issues".
However, Mr Anderson had never given his doctor any concern that he was thinking of taking his own life, it was said.
The bodies of the two boys and their father were discovered in the rented flat at Auchinleck House in Sidbury Circular Road on 1 September 2012.
The inquest heard Mr Anderson had been released from prison in November 2011, having been jailed for assaulting a man he believed was in a relationship with the mother of his children, Victoria Jones.
On his release he gained custody of his sons and moved into the flat, while Ms Jones stayed in Andover, Hampshire.
Social worker Jas Banes told the court there had been a plan for the boys to return to live with their mother by Christmas 2011 but Ms Jones changed her mind.
'Woken by noise'
He said a parent assessment was carried out on Mr Anderson after his release from jail.
The coroner read a statement from a neighbour, Sarah Dodman, in which she described hearing terrifying screaming coming from the flat in the early hours of 30 August.
She said: "I was woken by a loud noise which came from the wall. My bedroom was directly next to the bedroom of the two boys who lived there with their dad.
"I heard the older of the two boys cry and the little boy also began to cry loudly and sounded scared."
The inquest also heard from Denise Evans, who manages the flat for her nephew.
Body discovered
She had arranged to meet Mr Anderson on 1 September to collect his keys after he had failed to paid rent since the turn of the year.
She returned an hour later, after finding no sign of Mr Anderson, with prospective tenant Keeley Andrews-Hedges and her mother.
It was Ms Andrews-Hedges who discovered Mr Anderson's body in his bedroom.
"He was lying on his front, to his side, I couldn't see his face... at the bottom of the bed," Mrs Evans said.
"I said that Graham had two children and the bedroom door was closed and I just couldn't open it once we discovered him," she said.
Asked why, Mrs Evans replied: "The fear."
The court heard evidence from paramedics who described finding a belt around Mr Anderson's neck and the bodies of the boys in their beds covered by duvets.
The inquest was adjourned until Wednesday, when the coroner will hear evidence from the police and a pathologist.