'Spy watch' GP report shows concerns were raised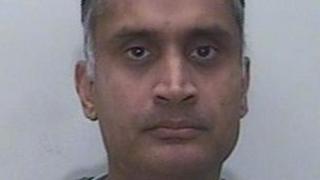 A report into a GP who filmed intimate sexual examinations with a camera hidden in a watch has found a senior GP had concerns about his behaviour.
Davinderjit Bains, from Swindon, admitted 39 sexual offences in May. He was sentenced to 12 years in jail.
The 46-year-old, who worked at Tinkers Lane Surgery in Royal Wootton Bassett, was struck off the medical register.
A spokesman for NHS England said steps had been taken to reduce the risk of a similar incident happening again.
The NHS report into the way the surgery was run, which was written in January when Bains was being investigated but which has only just been made public, found a senior GP had concerns about Bains' attitude to patients but was not sure what to do about it.
It also found the surgery did not offer chaperones to people having intimate examinations. Such a policy has since been brought in.
The report found the need for a better complaints procedure, a better whistle-blowing policy and more training for staff.
A spokesman for NHS England said: "We have worked with the GPs and practice team from Tinkers Lane Surgery, reviewing processes and policies, and made changes to any areas that fell short of best practice, with particular regard to chaperone policies.
'Lost confidence'
"We have also worked promptly with the Care Quality Commission (CQC), who have been involved in reviewing the quality of services provided at the surgery, and who have made specific recommendations relating to three key areas of care.
"We again extend our sincere apologies, on behalf of the NHS, to all those affected by the evil actions of this individual."
Bains, from Nyland Road, Swindon, pleaded guilty in May to sexual offences against 32 victims aged between 14 and 51.
Seamus Edney, a solicitor representing 20 of Bains' victims said they were all still "very traumatised" by what happened, and had "lost confidence and faith" in the NHS.
He said a chaperone should be a mandatory requirement in surgeries to be present at intimate examinations rather than optional.
One victim, who did not want to be named, said "the fear never goes away" that a similar incident might happen again.