Salty roads in Wiltshire attract sea grass inland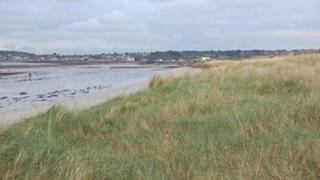 A rare grass usually only seen on the coast has been found about 40 miles (64km) inland in Wiltshire growing beside roads treated with salt.
The sea fern-grass was discovered growing along a stretch of the A30 at Thorney Down near Salisbury, by verge recorder Anne Appleyard.
The grass - Catapodium marimum - is usually found growing in coastal soils rich in nutrients.
Experts say roads treated with salt during winter mimic its normal habitat.
Mrs Appleyard, who is a volunteer recorder for the Wiltshire and Swindon Biological Records Centre, said: "It has been noticed that it's spreading inland in the south, but obviously only fairly recently spread this far.
"It finds conditions that it likes and can tolerate, so you get this little band alongside the main road."
'Unusual grass'
She said she found the 50m stretch of grass when she was recording the flora along the verge.
"I noticed this unusual grass growing right by the roadside and I thought it looked interesting so I took it home and identified with my various books," she added.
Wiltshire Wildlife Trust's Stephen Davis said: "This sighting shows how vital it is to monitor and protect habitats including areas of road verge.
"It also demonstrates the importance of long-term, regular monitoring and recording of species.
"Interestingly it highlights how man-made actions have consequences in nature that are not necessarily foreseen.
"Who knew that salting our roads to maintain our ability to travel from place to place would create a habitat where a coastal plant could thrive?"