Unions criticise Salisbury hospital nursing staff pay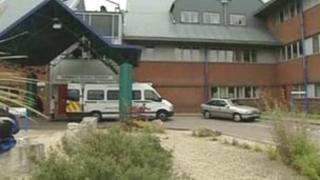 A decision to pay trainee nursing staff less than those with more experience at Salisbury District Hospital has been criticised by four unions.
New changes will see trainee nursing assistants paid 60p an hour less but given 18 months' extra training.
Salisbury NHS Foundation Trust said its new training programme would enhance the knowledge and skills of those being recruited to the position.
Four unions - Unison, RCN, Unite and RCM - all object to the lower pay.
'Reward staff fairly'
Mark Wareham, from Unison, said: "It is the giving with one hand and taking the other that we object to.
"We all believe that you've got to reward nursing staff fairly. Nursing Assistant is an unregistered job, it's a hard job, it's a lowest paid job and there's just no grounds for cutting it even further."
He added a written dispute had been lodged with the health trust and the unions would campaign against the change.
The hospital said nursing assistants had previously received theoretical and practical skills training before further supervised learning on wards.
Now a structured training programme will be introduced, resulting in a formal diploma in Health and Social Care.
Trainees will start on £6.70 an hour and the stating rate for fully-qualified nursing assistants remains £7.33 an hour, but Mr Wareham argued the work involved would be the same for both roles.
Tracey Nutter, director of nursing at the hospital, said: "We acknowledge that these new trainees will be earning less than nursing assistants who are currently working on wards, but we will be making a significant investment in their training and development in order to enable them to achieve a formal nationally-recognised qualification.
"In doing so, the trust took the decision not to pay the lower current national apprenticeship rate."