Swindon flood scheme officially opened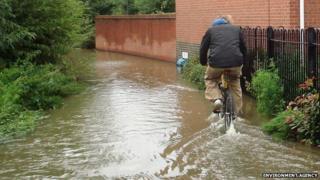 A new flood alleviation scheme, aimed at protecting more than 100 homes and businesses in a part of Swindon, has been officially opened.
The £6.6m project in Haydon Wick will protect properties from a "one in 100 year" flood, an Environment Agency spokesman said.
Homes, roads and an electric sub-station suffered severe flooding in 2007 when Haydon Wick Brook overflowed.
The scheme has taken 15 months to complete.
The Environment Agency's Barry Russell said: "This important scheme will benefit 118 homes and vital infrastructure in Swindon, and will make a huge difference to those that were affected during the 2007 floods.
"Being flooded is devastating and, while we can never completely eliminate the risk of flooding, we are pleased to be able to unveil this scheme that will make a real difference to those residents living in this area who are vulnerable."
More than 2.5 miles (4km) of metal walls and embankments have been installed along both sides of the brook.
As part of the project bat boxes were installed in trees, and two artificial kingfisher nest tubes were added to encourage the local existing kingfisher population to spread.
Swindon Borough Council and Thames Water also provided part of the funding.