Wiltshire ice fall ambulance wait death 'an accident'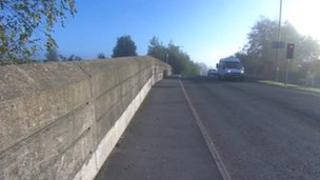 An elderly woman who waited two hours for an ambulance after slipping on ice and banging her head died as a result of an accident, an inquest has ruled.
Doreen Wignall, 88, died in hospital two days after the fall in Ludgershall, Wiltshire, in December 2011.
An inquest at Salisbury Coroner's Court heard the cause of death was an intracranial bleed, with the judgement given it was the result of an accident.
According to the ambulance service the delay was unavoidable in this instance.
'Timely response'
A representative for the South Western Ambulance Service (SWAS) told the court it had been an exceptionally busy day with treacherous driving conditions.
The coroner concluded that, based on expert evidence, he was satisfied the delay had not contributed to her death.
He added Ms Wignall was very elderly, she had suffered a catastrophic brain injury and could not be operated on.
Following the inquest, a SWAS trust spokesperson said: "We endeavour to provide a timely response to patients on each and every occasion.
"On 17 December this was clearly not achieved, though the verdict of accidental death recorded at today's inquest, coupled with the fact that no recommendations or actions were delegated to the trust moving forward, shows that the delayed response could not be avoided in this instance.
"Although circumstances on the day do not change the sad outcome, the 17th December 2011 was the third busiest day in the history of the service."
They added: "Demand in the Wiltshire sector was 55% above average, the number of falls increased by over 300% and almost 500 incidents were recorded for that day.
"The situation was further compounded by treacherous driving conditions and a number of road closures, much of which was alluded to during the summing up at today's inquest."
The trust added some changes and recommendations had been implemented following an internal investigation including new guidance on how it dealt with incidents at peak periods.