Elaine Pledge jailed for attempted murder 'over rape claim'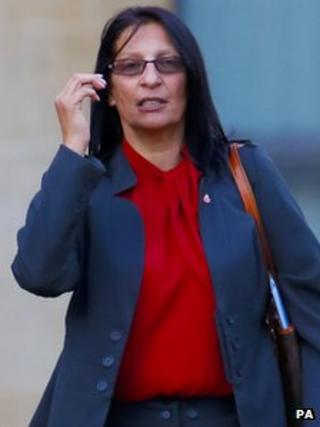 A woman who stabbed a man in the stomach, claiming he had raped her years before, has been given a 10-year jail term.
Former Army sergeant Elaine Pledge, 55, was found guilty of attempted murder by a jury at Winchester Crown Court.
She alleged Stephen Watt, 52, attacked her at his house in 2008 and when she saw him in a Wiltshire club in May this year, she stabbed him.
The judge said it was a "wonder" Mr Watt survived the stabbing.
Pledge used a filleting knife from the club kitchen in the attack, but the blade missed vital organs.
The court was told when Pledge, from Netheravon, Wiltshire, was arrested she told officers she hoped Mr Watt was dead.
Mr Watt told the jury that he had no idea why Pledge stabbed him. He said the first he knew of the rape allegation was when it was put to him in court.
Judge Gary Burrell said Pledge had no previous convictions and an "exemplary military record".
'Sheer luck'
However, he said she was a binge drinker and had been drinking on the night of the attack.
"You perceived some sort of threat or other problem from Stephen Watt who had attended the pub for a quiet drink.
"The fact is he did nothing. With your judgment clouded by alcohol you went into the club kitchen and found a rather cruel filleting knife and without a word you plunged the knife into his stomach.
"It's a wonder that he survived. It's only by sheer luck, where the knife went in, that no internal organs were significantly damaged," said Judge Burrell.
'Absolutely disgusted'
Mr Watt told the court Pledge's husband had an affair with his ex-wife about eight years previously and there was some animosity between the men.
When accused in court of raping Pledge, he denied the allegation, but said the pair had had a sexual relationship "now and then".
In his victim impact statement, he said he was "absolutely disgusted" Pledge was able to accuse him "of such a horrendous crime as rape".
"The first I knew of it was when I was accused at court this week," he said.
"I was shocked and really upset and could hardly respond to it except to say the truth: that it didn't happen and I did not rape her at any time.
"Being accused of that crime is like being stabbed by her again."