Council revises Wichelstowe development plans to save £30m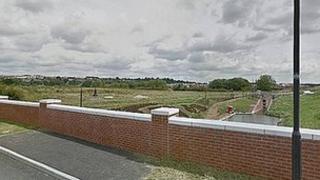 Revised plans for a major housing development in Swindon have been submitted by the borough council.
Plans to build 4,500 homes in Wichelstowe were approved in 2005 but so far only 800 have been finished.
The council has blamed the economic downturn for the "project stalling" and wants to amend its original masterplan.
It now wants to delay building roads in the area until 2,500 homes rather than 1,100 have been built and reduce affordable homes to save up to £30m.
The Wichelstowe development covers an 800-acre site and lies between Swindon's Old Town and the M4 motorway.
To make the site more attractive and accessible to developers, the authority borrowed £45m to provide roads, a canal and landscaping.
'Different place financially'
The debt was due to be repaid by the sale of land to developers but a depressed housing market hindered the sale.
Now the council is hoping to save up to £30m by delaying building roads on the development and dropping the minimum number of affordable homes from 30% to 15%.
"The world is a very different place financially from when the original planning agreement was drawn up," said Councillor Mike Bawden.
"If we are to attract the very best partner for this project, it must be as commercially attractive as possible, while at the same time remaining true to the original aim of creating a development which is a sustainable and attractive place to live."
The planning application is due to be considered by the planning committee, early next year.