Wiltshire rail changes have two years to prove success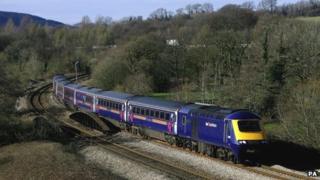 Extra rail services planned for a line in Wiltshire will be scrapped within two years if not enough passengers use them, the county council has warned.
Wiltshire Council is proposing to spend £1.2m to subsidise a daily increase in services between Westbury and Swindon, from two trains to eight.
The subsidy will stop in two years when First Great Western's franchise ends.
And the council said the extra services would not last beyond then if they do not prove to be economically viable.
At present two return train services run each day between Swindon and Westbury, via Melksham, with the number to rise to eight if the council approves the move.
'Desperately important'
Councillor John Thomson, deputy leader, said he was hoping the increased service would be a "success and be self-supporting in the future" but warned the cash was "short term".
"Basically, if it's not economically viable when the network is re-tended for, whoever wins the franchise will not provide it," he said.
The subsidy paid to First Great Western by the council, from Department for Transport funding, is expected to be £595,000 in 2013-14 and £628,000 in 2014-15.
Rail campaigner Graham Ellis, from Melksham, believes the increased services will make a "desperately important" difference.
He said: "Basically, I run a business in Melksham and I'm anticipating our customers arriving by train going up from 4% to 40%.
"It's going to be a huge difference for commuters and for the economies of Westbury, Trowbridge and Melksham, especially.
"We have got to prove it fairly quickly, within the first year, but we're fairly confident that will happen."