Chippenham search for town crier 'long overdue'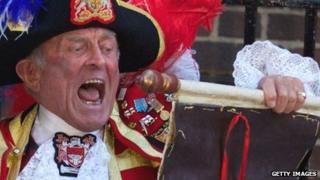 A search for a town crier to shout about the merits of Chippenham is "long overdue", according to the mayor.
The town council wants to create the role to have someone working to raise the profile of the Wiltshire town.
A competition will be held during the town's Victorian Fayre in December, and competitors will be expected to give a three-minute "cry" about Chippenham.
Mayor Sylvia Gibson said she hoped the winner will promote the town as they travel around the wider county.
The town crier will be a self-employed role, but there will be a payment from the town council for their services in a volunteer capacity.