Scrap yard car found in Wiltshire barn is 'only one left of its kind'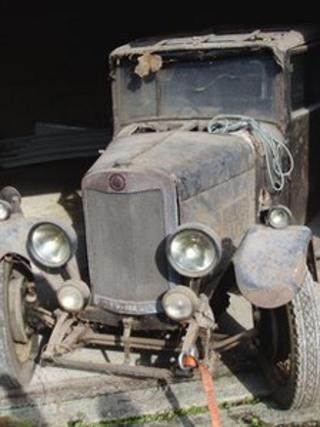 A car found rusting in a barn in Wiltshire and destined for the scrap yard has been confirmed as being the "only one left of its kind".
The 1928 Lea-Francis P Type saloon was discovered, along with three other vintage cars, at a property in Lyneham.
The Lea-Francis Owners' Club has since confirmed that the car is the "sole surviving example" of its type.
Auctioneer Richard Edmonds said: "Although it looks quite poor - it's all there and it's a rare survivor."
The saloon car was discovered in a barn along with two vintage Lagondas, worth an estimated £46,000.
The cars had been left to rust on blocks for the past 43 years.
'Time capsule'
"The Lea-Francis was destined for the scrap yard," said Mr Edmonds.
"Due to its state the daughter of the owner thought no one would want that car so she was going to call the scrap yard in.
"But actually it's very complete and when we contacted the Lea-Francis Owner's Club they said - gosh we didn't think any of them had survived."
The car was launched in 1928 at the catalogue price of £440 - about £23,500 in today's money.
But despite its rarity, the car is due to be auctioned at the weekend with a "conservative estimate" of between £5,000 to £8,000.
"It's incredibly exciting, as far as we know it's the only surviving example of its type," said Colin Poynter, from the Lea-Francis Owners' Club.
"It's like a time-capsule, it hasn't been moved for 50 years and there are some wonderfully original features like a silk roller blind in the back window, which was operated by the driver, to stop glare.
"The details are quite astounding - my guess is it will make between £10,000 and £15,000."