Magic mushroom 'spike' in Wiltshire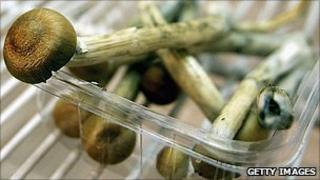 A "spike" in magic mushroom-picking in Wiltshire has led to an increase in woodland patrols, police have said.
Six people have been caught around Marlborough in possession of Liberty Cap mushrooms (Psilocybe Semilanceata), a Class A drug.
Wiltshire Police says it has increased patrols in and around Savernake Forest.
The NHS website says magic mushrooms are a hallucinogenic, "making people see, hear and experience the world in a different, 'trippy' way".
PC Dave Tippetts from Wiltshire Police said: "Any person seen picking or found in possession of Magic Mushrooms will be liable for prosecution.
"One of my main concerns is that there are very similar mushrooms growing in the area that are extremely poisonous and could cause physical harm if consumed."
Update 22 October 2013: A previous version of this article stated that Professor David Nutt had said, on the NHS website, that hospitals see a rise in mushroom-related cases during October. The NHS has confirmed the quote was inaccurate and it has been removed.