Car transporter crash closes M4 in Wiltshire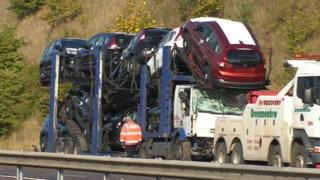 A four-vehicle crash involving a lorry and a car transporter on the M4 in Wiltshire has left three people seriously injured.
The collision happened just after midnight between the Swindon East and Hungerford junctions.
At one point, Wiltshire Police closed five lanes during the incident. All were reopened at midday.
The driver of the car transporter was arrested at the scene on suspicion of dangerous driving.
He remains in police custody at Gablecross Police Station, Swindon.
Airlifted to hospital
Wiltshire Police said a blue Ford Transit van lost control and overturned on to the carriageway at 00:20 BST. As a result, a black Audi stopped nearby.
The occupants of both vehicles were believed to be standing at the side of the carriageway when a car transporter collided with both vehicles and occupants.
The driver of the Audi, a 32-year-old woman from the Salisbury area, sustained life threatening injuries.
The woman and the Transit passenger were airlifted to Frenchay Hospital near Bristol for treatment, and the driver of the Transit taken to Swindon's Great Western Hospital.
The driver of an articulated vehicle, which was damaged as a result of the collision, was uninjured.
The road closures caused long tailbacks on the M4 and the A419 at the Commonhead roundabout, Swindon.
Wiltshire Police is still advising motorists to avoid the area if possible.