Working 'Neolithic' burial mound to be built near Devizes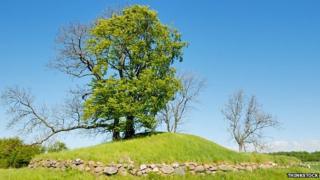 A modern working "Neolithic" burial mound is to be built in Wiltshire.
The 50m (160ft) long barrow at All Cannings near Devizes, will contain niches that will house urns.
Work is expected to begin next spring and be completed by the summer, after Wiltshire Council approved the plans subject to planning conditions such as parking and landscaping.
Developer Tim Daw said he had already taken a number of bookings from people wanting to use it.
Mr Daw said he was "thrilled" he had been given permission to build it and that he was going to make the mound "very special".
"I feel honoured I've been given the duty to provide something that'll be fitting for people," he said.
For a fee, the bereaved will be able to place urns within the mound "in a secluded natural setting".
The barrow will be split into seven chambers, which will contain a total of about 300 "family" niches, and the entrance will be aligned with the sunrise on the winter solstice.
Each niche will have room for between six and eight urns and will be sealed with a lockable door.
The structure will be made partly from local sarsen stones, similar to those used in the nearby stone circles at Stonehenge and Avebury.
The ancient tradition of burying the remains of the dead within earth mounds dates to the early Neolithic period.
A number of ancient burial mounds exist near the new site, including West Kennet Long Barrow, which is one of the best preserved in the country.
The council approved the plans subject to a number of conditions, including the provision of car parking and landscaping at the site.