Marlborough's mayoral chain stolen in burglary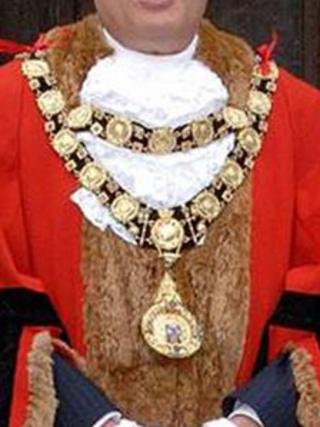 A Wiltshire mayor's ceremonial gold chain of office has been stolen from the town hall in Marlborough.
Wiltshire Police said the chain, thought to be worth £130,000, was taken in a burglary on Sunday night.
Made in 1911, the chain consists of 18ct gold badges imprinted with the Marlborough crest and semi-precious stones including sapphires.
Police want to hear from anyone with information, particularly jewellers who may have been offered the item to buy.
Guy Loosmoore, the town mayor, said it was a "sad day" as it had "enormous significance to the people of Marlborough".
"Whilst important, its monetary value is nothing compared to what it means to the history and dignity of local people," he said.
"I am just really grateful that no member of the public, councillor or our own staff were injured."