Wiltshire medal ceremony for Afghanistan troops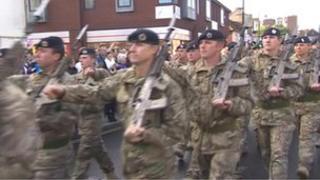 The Wiltshire-based Royal Engineers have been presented with medals for serving in Afghanistan.
More than 400 soldiers from Perham Down's 22 Engineer Regiment marched through Andover in Hampshire where they were given the freedom of Test Valley.
Following the parade, on Saturday, the soldiers returned to Swinton Barracks for a medals parade.
While in Helmand Province, the soldiers closed and transferred bases to Afghan control.