Lyneham £230m military training college plans approved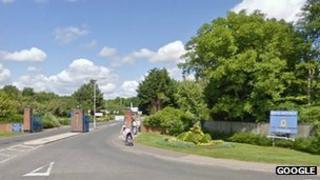 Plans for the £230m redevelopment of the former RAF Lyneham airbase have been approved by Wiltshire Council.
The proposals will create about 1,700 jobs and include a military college which will train thousands of students from all three of the armed forces.
The project will see the demolition of the base's Chapel of Rest, which about 6,000 people signed a petition against.
The Ministry of Defence (MoD) has said it will build a garden of remembrance in its place.
An MoD spokesperson said the garden would be publicly accessible and form part of the Royal Electrical and Mechanical Engineers Museum of Technology, which will be relocated from its current site at Bordon in Hampshire as part of the plans.
He said the garden would "reflect the role played by Lyneham as an RAF base in repatriating military personnel from operations".
Alongside the petition, Wiltshire Council also received 166 letters of objection to the plans with many residents worried about the impact of noise from the new facility.
The MoD have stated there will be some gunfire and jet aircraft will taxi on the old runway.
Defence Minister Mark Francois said the the noise would be "minimal" and less than the amount made by the old Hercules planes which used to fly out of the base.
RAF Lyneham closed last December as part of a strategic review of military bases by the MoD.