Salisbury Cathedral sand art to be destroyed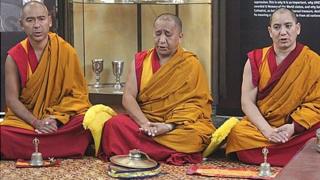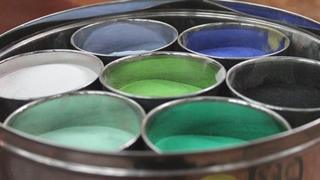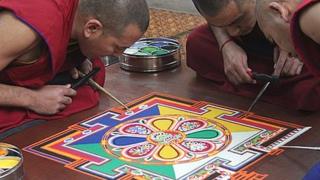 A complex sand painting painstakingly constructed grain-by-grain by Tibetan monks, is due to be destroyed an hour after it has been completed.
Eight monks from Tashi Lhunpo Monastery have spent five days at Salisbury Cathedral creating the sand mandala.
It has taken the monks more than 35 hours, in a "draught free" area of the cathedral, to layer the brightly coloured grains using hollow pipes.
But on Friday, the work will be blessed and the sand swept away in a ceremony.
Jane Rasche, from the Tashi Lhunpo Monastery Trust, said a mandala is created to provide an imaginary palace for a Buddha.
"The vibrancy of the colours is entirely intentional," she said.
"The very first mandala made 2,000 years ago was made out of ground precious stones.
"So what the monks are trying to get is this jewel of a structure into which they can invite a Buddha as part of a meditation."
The intricately designed sand palace, in this case, is for the Buddha Chenrezig - the Buddha of Compassion which is represented by a central lotus flower.
Once complete, the mandala will be ritualistically destroyed in a matter of seconds to emphasise the "transitory nature of material life".
The blessed sand grains will then be poured into the lake in the cathedral school grounds so their benefit can spread to as many people as possible.