Wiltshire soldier guilty of killing friend with single punch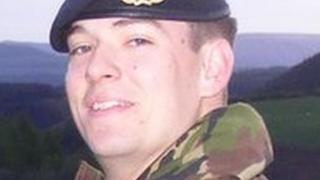 A soldier has been found guilty of killing his friend with a single punch in Wiltshire.
John Gilliver, 33, killed Gnr Steven Castaglioni in an unprovoked attack following a drunken fight in 2009, Winchester Crown Court was told.
The court heard the 21-year-old's death was the result of the combined effects of concussive head injury and intoxication.
Gilliver, of Bingham Road, Larkhill, was convicted of manslaughter.
The 33-year-old had claimed he was trying to get his friend, a member of the Royal Artillery, back to barracks safely after the two had been drinking together at his home on 29 June 2009.
However, Wiltshire Police said witnesses had seen an altercation between the two men in which Gilliver was described as "punching, tripping and rugby tackling" his friend to the ground.
At 23:00 BST, the two men were seen walking along The Packway when Gilliver punched Mr Castaglioni, who fell to the ground.
'Tragic consequences'
Det Sgt Deborah Ellender, who led the investigation, said the case showed how "any act of violence can result in tragic consequences".
"It should not be underestimated; a single punch can cause serious or fatal injuries," she said.
"John Gilliver and Steven Castaglioni were friends and colleagues and had spent the afternoon drinking together at Gilliver's home.
"There was a disagreement between the men and Gilliver's aggressive response, coupled with the affects of alcohol resulted in Steven's death."
A date for Gilliver's sentencing has yet to be confirmed.