Titanic burial at sea photo to be auctioned in Devizes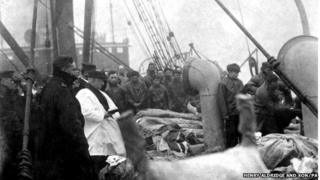 A rare photograph showing Titanic victims being buried at sea is to be auctioned in Wiltshire.
The image was taken days after the tragedy of 15 April 1912, on board the recovery ship the CS Mackay-Bennett.
Devizes-based auctioneer Andrew Aldridge said the photo gave a "unique insight" into the burials.
Records show that 166 out of 306 bodies collected by the Mackay-Bennett were buried at sea but until now no image has been seen publicly.
'Ship of dreams'
The photograph was found by the family of one of the crew members of the recovery ship who had the image in a collection of his possessions.
The Mackay-Bennett was involved in the operation to recover the bodies of the victims from the North Atlantic.
Mr Aldridge, of Henry Aldridge & Son, said: "When we were looking through the archive, the picture jumped from the rafters. It is a chapter very little is known about.
"It has always been said that the process was dignified and organised but piles of bodies are neither of those. The bodies are piled up waist-high.
"This picture shows the dirty side of the business."
The photograph shows the ship's priest conducting the burial service.
Two crewman are shown consigning a body into the ocean, and a canvas bag containing the possessions of body number 177 - William Peter Mayo - can be seen.
The archive originally belonged to RD "Westy" Legate, 4th officer of the Mackay-Bennett.
It is expected to reach between £3,000 and £5,000 when it goes under the hammer on 19 October.