Parade marks Freedom of Warminster for renamed 1 Yorks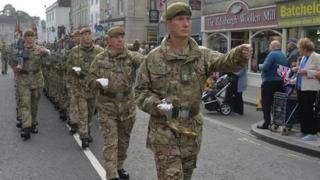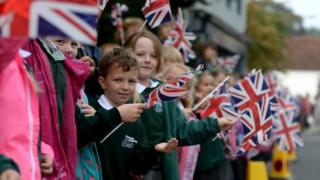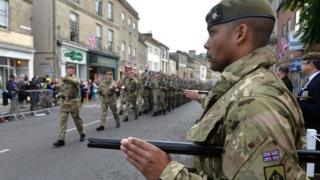 Around 250 soldiers from the Yorkshire Regiment have taken part in a Freedom Parade through Warminster in Wiltshire.
Hundreds of people lined the streets to watch members of the 1st Battalion march through the town centre.
The freedom of the town was conferred on the Battalion last year but as part of Army cuts the regiment's three battalions were merged and renamed.
The Freedom of Warminster means the regiment has the right to march through the streets of the town.
It is also allowed to parade with colours flying, bayonets fixed, drums beating and bands playing.
'Great support'
Lt Col David O'Kelly, from the Yorkshire Regiment, said it was a "very special honour".
"This is the only Freedom Town that the Yorkshire Regiment has which is not in Yorkshire," he said.
"It clearly demonstrates a great deal of support by the citizens of Warminster."
Following the parade, the Battalion hosted a community event at Battlesbury Barracks in the town to "show their appreciation".
The Yorkshire Regiment, which was formed in 2006, consisted of three regular Army infantry battalions and one Territorial Army infantry battalion.
Under the restructuring review the 3rd battalion was renumbered the 1st, the 1st became the 2nd and personnel from the 2nd battalion were absorbed by the other two.