Abandoned Imber church holds service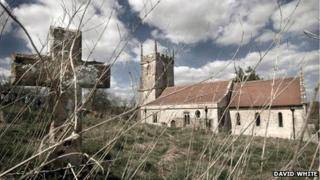 An annual service at a derelict church has taken place in an abandoned village on Salisbury Plain.
The Army took over the village of Imber during World War II to use the area for training. Residents had to move out and were never allowed back.
It has been used by the military ever since. They allow access to the village on a handful of occasions each year.
About 70 people attended the St Gilestide service, held each September to mark the feast of St Giles.
The Revd Mark Jones, the Rector of Bratton, who took the service said: "Whenever services take place at Imber the church is absolutely packed out.
"Even when there's a convoy required for getting people here the service is well attended. It's nice to see a church so full."