Swindon children's nurseries closed with 'immediate effect'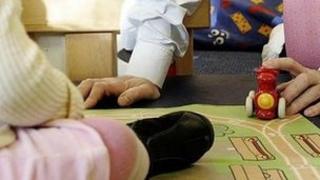 A children's nursery provider in Swindon has closed down with immediate effect.
Headstarts was being investigated by Ofsted after a three-year-old had gone missing from one of its premises.
Another nursery recently received an unsatisfactory rating from the education watchdog, leading to the withdrawal of council funding.
Swindon Borough Council said it will help up to 180 parents affected find alternative places for their children.
A spokesman confirmed it has been in contact with other early years providers interested in taking over the Headstarts provision.
He added that the authority would have continued funding the provider for four weeks in order for parents to find places elsewhere.
But Ofsted said Headstarts had confirmed on Monday that it would close all its premises with immediate effect.
'Really shocked'
In a letter attached to the gate of one of its nurseries, Headstarts owner Sara Vare apologised with "real and deep regret" to parents for the inconvenience.
She said there had had been "a number of factors" that had "forced the sudden closure".
One parent whose children are affected, Geraldine Speering said: "We're really shocked. I am lucky that I don't work but it's so unsettling for the children."
Headstarts Day Nursery was established in 1990 and operates four nurseries in Swindon and one in Basingstoke.
A spokesperson for the company was unavailable for comment.