Wiltshire and Swindon councils' tenants in arrears rise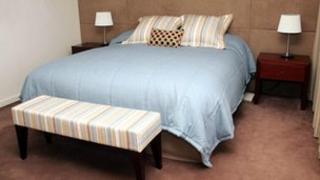 More council tenants have fallen into arrears across Wiltshire since housing benefit changes came into force.
In Wiltshire, 70% of the 400 council house tenants affected are now in arrears on their rent, compared to 50% before April.
In Swindon, about 1,000 tenancies were affected. More than half of them, 54% are now in arrears.
The new rules came into force in April where people with a spare bedroom would lose a proportion of their benefits.
'Struggling financially'
Under the changes, social tenants deemed to have more bedrooms than they need have had their housing benefit reduced.
Ministers say private sector renters do not get spare rooms free, and argue the change will save around £500m a year and free up much needed larger properties.
Before the changes were introduced, about 34% [340 tenancies] of the 1,000 council tenants affected by the changes were in arrears with Swindon Borough Council.
The authority is now owed £135,000 in rent, compared to £108,000 before the changes were introduced.
Overall, there are a total of 14,000 tenancies in the Swindon council area with 94% of them paying rent on time.
A Swindon Borough Council spokesman said it had been helping those specifically affected by the occupancy rules, which it said had prevented a steep rise in rent arrears.
He added: "The support includes working closely with the tenants affected to help them downsize where possible.
"Eviction is always a last resort and we always encourage tenants to engage and work with us so it is avoided."
Wiltshire Council has yet to comment on the figures.