'Lucky' escape for Devizes woman after car hits house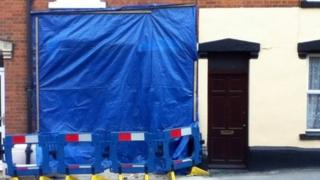 A woman from Devizes says she is lucky to have escaped serious injury when a car crashed into the front of her home.
The accident happened in the early hours of Sunday when Dereka Dodson's home on Station Road was hit, knocking much of the downstairs wall down.
Ms Dodson who was upstairs in bed at the time said she heard an "awful screeching sound" before a "great thud" which shook the whole house.
The male driver of a blue BMW was not injured in the collision.
People 'looking in'
Ms Dodson said that when she got downstairs there was a cloud of what she thought was smoke but it turned out to be brick dust.
"When I got to my sitting room I could see I didn't have a wall or front door anymore," she said.
"I was looking out at people who were looking in.
"I could have been seriously injured because the bricks were thrown all across the room.
"I don't know when I'll be able to get back in again so I'm staying with my neighbours [and] the damage could be worse than it looks," she added.
The building was shored-up by firefighters and is due to be inspected later.
A Wiltshire Police spokesman said: "Anyone who witnessed the accident or saw the blue BMW beforehand is asked to contact collision investigators.
"The driver was not arrested but the car was seized by police to try to determine the cause," he added.