Trussell Trust food bank charity criticises Michael Gove comment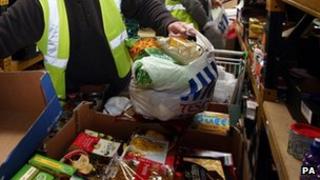 A food bank charity has said a suggestion by the education secretary that users "can't budget properly" is "inappropriate".
Michael Gove made the comments in the Commons last week after visiting a food bank in his constituency.
Chris Mould from the Wiltshire-based Trussell Trust said: "You can't drop into a food bank on a Friday morning and decide you've got all the answers."
He said it expected to help about 750,000 people around the UK this year.
The Salisbury-based Trussell Trust has set up 383 food banks across the country over the past nine years.
'Stagnating incomes'
People who use the food banks cannot just drop in but have to be referred by professionals such as a health visitor, social worker or head teacher.
Mr Mould said: "The vast majority of people who come to food banks are there because they have no choice, They've got deep problems with their stagnating incomes.
"We meet people day in and day out who've been going hungry to feed their children - and that's why Michael Gove's comments are not just insensitive, they're completely inappropriate.
"Because to make the judgement that after a drop-in on a Friday morning that you know better than the 30,000 volunteers who give their time every week to this, and to the 18,500 different organisations across the country who hold vouchers for Trussell Trust food banks - it is really, really difficult to understand."
Mr Gove had said, last week, during his departmental question session with MPs: "I had the opportunity to visit a food bank in my constituency only on Friday and I appreciate that there are families who do face considerable pressures.
"It's often as a result of some decisions that have been taken by those families which mean that they are not best able to manage their finances.
"What we need to do is to ensure the support is there not just financially but also to make sure that the right decisions are made."
The Department for Education declined to comment.