Salisbury respite centre: Families protest over proposed closure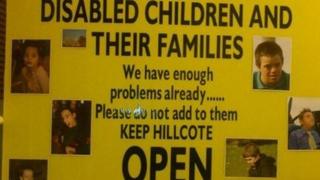 About 100 people who have children with severe disabilities in Wiltshire have protested about the proposed closure of a respite home.
The Hillcote in Salisbury could be closed in April 2014 after the NHS and Wiltshire Council said it was "not cost effective".
Tanya Dunn whose son uses Hillcote said she would be "left in limbo".
The council said only eight children used it and savings would be spent on "improving more home-based care".
'Recharge batteries'
Ms Dunn, whose 16-year-old son Liam is severely autistic, said home-based foster care would not suit her son's needs.
She said: "I don't think this kind of care would last very long for Liam - he doesn't like change.
"Hillcote has been there for 32 years and has always provided a really good service. We need respite for our families and it gives us a chance to recharge our batteries.
"When Hillcote is gone, we will be left in limbo for about a year because Liam is too young for adult services."
A Wiltshire Council spokesman said it was seeking views on the proposal to "change the way in which short breaks for children and young people with disabilities are provided".
He added: "The proposal recommends providing more overnight support by qualified foster carers in a family environment and this, in turn, could potentially mean the closure of a unit in Salisbury, currently used by eight children.
"The unit, Hillcote, is not being used to its optimum capacity and the money saved by its closure will be spent on improving more home-based care for children and their families in Wiltshire."