Stonehenge bone display endorsed by English Heritage governors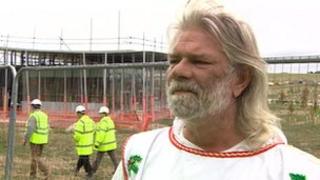 A proposal to display human remains at Stonehenge has been endorsed by English Heritage governors, despite a druid's legal challenge.
King Arthur Pendragon has threatened "the biggest protest in Europe" if bones are put on permanent display.
However English Heritage backed the plan for the new visitor centre, saying it was consistent with current UK museum practice.
Last month the druid launched a legal challenge to prevent the display.
He said: "English Heritage has two choices - they can either be world leaders and show the way to the rest of the world, or they can stick with the Victorian idea of ogling at the dead, in which case they would have the biggest protest in Europe because I would be leading it."
'Visitors made aware'
Instead he wants fake human remains to be used at the visitor centre, which is part of a £27m project due to finish this year.
English Heritage said the proposal had been carefully considered and there was strong consensus that it must communicate "all the key narratives and archaeological findings" to the public.
Two of the three sets of human remains were excavated more than 50 years ago and the third was uncovered during road improvement works in 2001.
All three sets of remains are more than 4,500 years old.
"If English Heritage was not displaying them, they would remain in the collections of the Salisbury and South Wiltshire Museum and the Duckworth Collection, University of Cambridge," said a spokesman for the organisation.
"Their presentation, treatment and storage will follow strict guidelines set out by the UK government's Department for Culture, Media and Sport.
"Visitors will be made aware of the display before they enter the exhibition."
Once complete, the new visitor centre will provide information and history about the giant stones.