Four Swindon children's centres set to close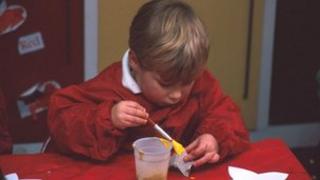 Swindon Borough Council is set to close four of its 14 children's centres to save £380,000.
The centres' services will either stop and be offered elsewhere or just offer limited services.
The council has said 80% of its £2m budget will be spent on vulnerable families.
But Labour's Prospective Parliamentary Candidate for South Swindon, Anne Snelgrove, said the council had "made the wrong decision".
The Greenmeadow children's centre will close and the building will be leased to a pre-school, play group and for some health services.
The Saplings Centre will be "merged" with the Ladybird centre in Highworth with children's services run out of other community buildings.
The Saplings building will be leased by a pre-school and the Ladybirds centre will be leased by council departments instead.
Services at the Eldene and Croft centres will also be cut back. The services at Eldene will instead be provided by Goodard Park Centre.
The cuts were agreed in the budget earlier this year.
Ms Snelgrove said the Conservative-run council had its priorities wrong.
'Wrong decision'
She said: "£380,000 out of a children's centre budget is a massive cut when you are actually spending £15m on a new car park that nobody wants in a town centre."
She said the council had "made the wrong decision" over the children's centres.
Council leader David Renard said: "We wanted to support vulnerable children and families and identified where those are."
Mr Renard said: "At no point in the consultation does it refer to closing centres - it is true some won't have as many activities in the future, but the objective is to retain all the services."
Councillors will decide whether to approve the recommendations.
Other budget cuts will also be decided, including over bus subsidies and theatre funding.