Wiltshire Council senior managers get £10k pay rise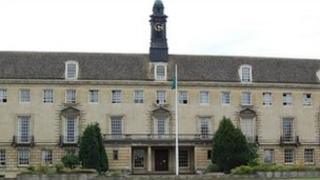 Senior managers at Wiltshire Council are set to get a pay rise of between £10,000 and £20,000, councillors have ruled.
In July, the Conservative-led authority accepted 220 voluntary redundancies and remaining staff are on a pay freeze.
Staffing committee chairman John Smale said: "At the moment it will not cost additional money."
But the Taxpayers' Alliance said the decision will "not sit well with local residents".
'Cost-neutral'
The authority is trying to cut a total of 400 people from its workforce.
Mr Smale added the senior directors were on a pay system where salaries were based on the market value of their jobs.
He said that meant calling it a pay increase "was not technically correct".
But he admitted "they will be getting more money".
The council said its staffing budget had saved £1.5m so the pay rises would be "cost-neutral" as it was part of a "streamlining" process where the number of corporate directorship jobs were being reduced.
Robert Oxley from the Taxpayers's Alliance, said: "At a time when they are already receiving a huge pay packet, the idea that they should be paid more at a time when there is literally not enough money left, that isn't right.
"Councillors are having to make difficult decisions, they're having to make necessary spending cuts, so when they're cutting spending elsewhere to be handing them a pay increase, it won't sit well with residents."
The authority has cut £100m in the past three years at the same time it claims funding from central government has dropped by 28%.