Trowbridge campaigners march to highlight domestic abuse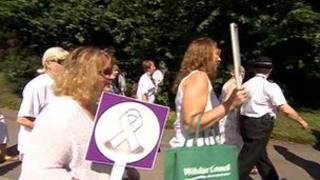 A march to raise awareness of domestic abuse has taken place in a town in Wiltshire.
The "Walk in White" through Trowbridge was organised by Wiltshire Council to mark the start of the 12-month "No Excuse for Abuse" campaign.
Maggie Rae, from the council, said: "It is our way of reminding everyone help is available, not to suffer in silence and to have the courage to speak out. "
Wiltshire Police also supported the march by taking part.
Ms Rae continued: "There's no point in us making it safe to walk the streets if people are frightened to go home."