Swindon's Link Centre celebrates £2m refurbishment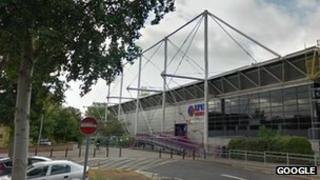 Refurbishments costing £2m at a leisure centre in Swindon have been completed.
Swindon Borough Council said a programme of improvements had taken place at the Link Centre in Whitehill Way, Westlea, over the past 18 months.
Changes include a new roof, a swimming pool makeover and a new ice pad and an open day has been held to celebrate.
The new-look ice rink, now known as the Swindon Ice Arena, was reopened to the public earlier this month following an 11-week project costing £700,000.
"The Link has been at the heart of the West Swindon community for more than 25 years and is a much-loved facility," said Swindon mayor Nick Martin.
"I am delighted the various refurbishment works have been completed and that we have such fantastic facilities for local people to enjoy".
The centre won awards for its cantilevered design more than 25 years ago.