Cardiac arrest boy from Wiltshire raises money for hospital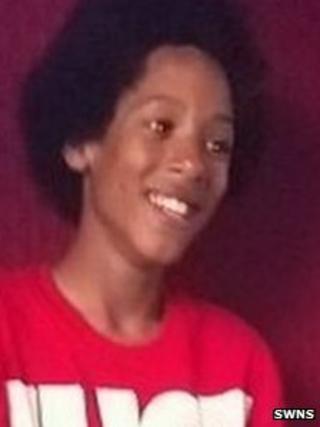 A teenage footballer from Wiltshire who went into cardiac arrest during a match is raising money for the hospital that saved his life.
Quinton Barham, 14, was playing for his local team in February when he came off the pitch feeling dizzy, and collapsed.
Paramedics spent 90 minutes getting his heart going again before he was taken to the Bristol Royal Infirmary.
Doctors found his pulmonary artery was in the wrong position and he needed heart bypass surgery.
Quinton returned to training last month and is playing in a charity match in Bromham, where he was taken ill, later.
'Simple question'
Quinton's team, Bradford Town Youth Football Club, have since acquired a defibrillator for their ground.
Alan Brenlea from Bromham Youth AFC said Quinton's collapse had changed the way they prepare for games.
"It raised awareness of how important it is," he said.
"You are reminded that, as football people, you spend ages and ages picking teams and discussing tactics, but you never think to ask other managers when you go to away matches the simple question 'do you have access to a defib?'."
Throughout his recovery, Quinton received messages of support from former Manchester United manager Sir Alex Ferguson, and the former Premier League star Fabrice Muamba, who also had a cardiac arrest during a game.