Wiltshire 'anchoress' emerges from night in church vestry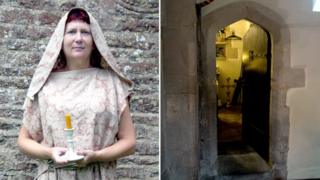 A Wiltshire churchgoer has emerged from a small vestry of a 12th Century church having spent the night locked inside.
Liz Cullen said the room inside St Giles at Stanton St Quintin was believed to have once been an ancient anchorite cell, used for seclusion.
She said she was woken by a "strange noise" at 03:00 BST and it was "not very comfortable", but she was pleased to have completed the challenge.
Mrs Cullen spent the night re-living the past to raise money for charity.
The Bishop of Bristol, the Right Reverend Mike Hill, performed the enclosure ceremony on Wednesday night as Bishops would have done in centuries gone by.
'Sort of clunk'
"I'm pretty good considering the conditions in there - a 6ft by 6ft cell - sleeping on the floor, no running water, which is how millions in Africa live all the time," said Mrs Cullen, who was locked inside for 12 hours.
"I was woken at three in the morning. There was a strange noise, I wasn't quite sure what it was, so there were a few sort of flurries of excitement.
"It was some sort of clunk. I think it may have been the electricity meter, to be very prosaic, but having said that it did give me a bit of a start."
She added: "After that I just slept and, in fact, it's surprisingly quiet in there. You can't hear anything from the outside world, so it's completely tranquil.
"There was just about enough room to put a sleeping bag on the floor. It was not very comfortable, I have to say, but I feel great because it's a huge achievement having spent the whole night."
Mrs Cullen said anchorites were people who retired into seclusion for religious reasons, living in confined quarters and spending their time praying, fasting, giving advice to visitors and mending the clothes of the poor.
She is raising money to provide a borehole for a school in The Gambia, in support of the charity Opera Africa.