Wiltshire 'anchoress' spends night in small church vestry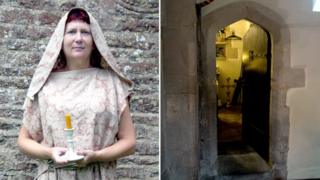 A churchgoer from Wiltshire has been locked inside a small vestry of a 12th Century church for the night.
Liz Cullen said the room inside St Giles at Stanton St Quintin was believed to have once been an ancient anchorite cell, used for seclusion.
She decided to spend a night re-living the past to raise money for charity.
The Bishop of Bristol, the Right Reverend Mike Hill, performed the enclosure ceremony as Bishops would have done in centuries gone by.
'Bats for company'
Mrs Cullen said anchorites were people who retired into seclusion for religious reasons, living in confined quarters and spending their time praying, fasting, giving advice to visitors and mending the clothes of the poor.
"I plan to be locked in the vestry for 12 hours, overnight, with only the bats for company," she said.
Her husband, Peter, said the vestry was 8ft by 6ft in size with only a couple of small windows.
"I think it's a terrific idea and I'm absolutely fully supportive," he added.
"The Bishop of Bristol said he'd never performed a similar ceremony before. It was a lot more solemn than I thought it was going to be.
"I'll be glad to have her back."
Mrs Cullen is raising money to provide a borehole for a school in The Gambia, in support of the charity Opera Africa.