Royal Wootton Bassett Cross Keys pub fire 'an accident'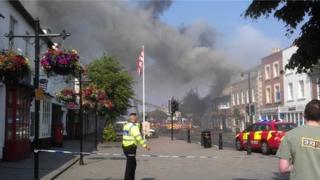 A fire which destroyed part of a pub where bereaved families gathered for the repatriation of fallen servicemen and women started accidentally, an investigation has revealed.
The roof of the Cross Keys pub in Royal Wootton Bassett caught fire in July.
About 50 firefighters attended the fire. The pub in the High Street was closed for refurbishment at the time.
The Cross Keys became a place where families could retreat to in private during repatriations.
The pub, thought to be the oldest in the town, was due to reopen to the public in early August following the refurbishment.
Owners Enterprise Inns said they hoped to restore the Grade II-listed pub now the investigation by Wiltshire Fire was complete.