Wiltshire and Berkshire Canal revamp project gets £25k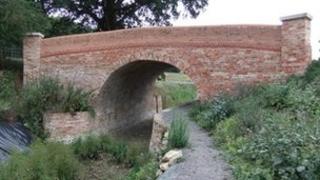 Volunteers have raised more than £25,000 "in a matter of weeks" to safeguard the restoration of part of a canal that runs through Wiltshire.
Part of Seven Locks, on the Wiltshire and Berkshire Canal, was up for sale and the canal trust feared losing it.
The 0.3m (0.6km) section to the north of Swindon was responsible for lifting boats some 18 metres.
Canal trust volunteer Kath Hatton said they had received more than 400 donations, from £10 to £5,000.
"This is one of the most spectacular parts of the Wilts & Berks, passing through beautiful countryside and surrounded by so much wildlife," she said.
"We hope this latest purchase will act as a catalyst to encourage more volunteers to join the campaign and increase the pace of restoration."
Work on the canal, which originally linked the Semington Junction on the Kennet and Avon Canal to Abingdon on the River Thames, started in 1795.
The 52 mile-long stretch of water took 15 years to complete with the route opening in 1810.