Swindon biomass plant 'compromise offered'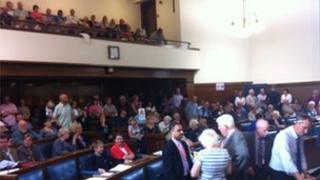 A company which wants to build a biomass plant in Swindon has offered a compromise after meeting objectors.
Pure Green Limited said it had held talks with opponents after many complained of a lack of consultation.
Its director Peter Vandeputte said the plant, near Rodbourne Cheney, will now only burn untreated wood and no longer produce electricity.
But Labour councillor Des Moffatt said he still had concerns about the amount of smoke it would create.
Dust plans
"Ten thousand people will live in the flight path of the smoke from this establishment... what is in front of us is a plant that they intend to truck 60,000 tonnes of scrap wood of all descriptions to and burn," Mr Moffatt said.
The plant, with two chimneys, one 65ft (20m) - the other 98ft (30m) high, had been recommended for approval "with conditions" but a decision to allow it to go-ahead was deferred at a council meeting earlier this month.
Further inquiries will now be made by Swindon Borough Council officials into the plan before it is considered again.
Mr Vandeputte told Thursday's meeting the site would only burn a third of the amount originally proposed and the wood would be "A-grade untreated wood" rather than waste wood.
He said all the processing of wood to make pellets would be done in a room under pressure to stop any dust escaping into the air.
"Dust from the production would be burnt by the boiler and dust that comes out as exhaust gases will go through filters that will eliminate it.
"Studies have showed the [extra] dust levels at 360ft (110m) away from the plant to would be less than 1%," he added.