Derailed engineering train damages track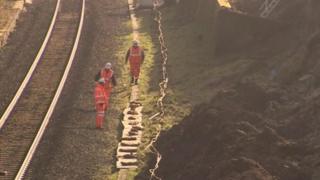 An engineering train, working on the re-doubling of the railway line between Kemble and Swindon, has derailed causing damage to the track.
It happened between Minety and Swindon, a Network Rail spokesperson said.
The line is currently closed due to ongoing engineering work, and is due to reopen on 2 September.
A spokesman said the extent of the damage was being assessed and they were "working towards" resuming services by that date.
No one injured
Mavis Choong from Network Rail said: "Two sets of wheels from an engineering train came off the track on Sunday, 18 August.
"One wagon of the train was affected, but remained in an upright position.
"Thankfully, no one was injured by this incident.
"We are currently undertaking an investigation and, once completed, it will help identify the cause of the incident.
"We are also assessing the extent of the damage caused by the derailed wagon, to enable us to make plans to repair the affected infrastructure.
"In the meantime, we are working towards resuming services by 2 September, and commissioning in 2014."
A source, who did not wish to be identified, told the BBC it was believed that more than four miles of track had been affected, and the damage would delay engineering work by "at least a week".
The project to upgrade the route between Kemble and Swindon to a two-track operation is part of a £45m project ahead of the Great Western Main Line's electrification.
The line was "singled" in the late 1960s as a cost-saving measure by British Rail, under agreement with the government.
Adding the second track is expected to allow up to four trains per hour to travel on the line in each direction.