Wiltshire College students offered A-level places elsewhere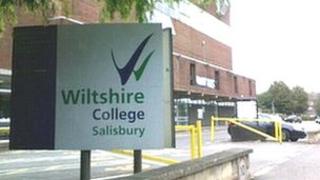 Students due to study A-levels at Wiltshire College's Salisbury campus, where provision was withdrawn, have been offered places at Sarum Academy.
But pupils hoping to progress from AS-level to A2 fear "losing" a year if they cannot find places offering the same course via the same exam board.
The council said it would help match students to courses elsewhere.
A-level provision at the college was withdrawn due to a lack of demand, affecting about 50 pupils.
Studying fears
Abbie Russell has completed her AS courses and was going to continue to A2 in art, psychology and English literature.
"The surrounding colleges might not even run the exam board that I'm on so I'd have start my AS-levels again, so a whole year would count for nothing," she said.
Studying one year of an A-level course counts as an AS-Level qualification. Students then have the option to continue to study for the second year of the course - known as A2.
But in order to gain a "full" A-Level this would need to be via the same exam board they used during the first year.
Sarum Academy's principal, Ruth Johnson, said they may be able to accommodate some A2 students.
"If they do match that would be great," she said.
"But there are ways we can fast-track people through if necessary so I would say get in contact with us and we will do what we can to extend our number of places to take those pupils on."
Wiltshire Council has said it will try and speed up late applications for subsidised bus passes for students who choose to study out of county.
And Wiltshire College is holding drop-in sessions for pupils this week to talk through options.