Swindon ice rink reopens after 11-week refurbishment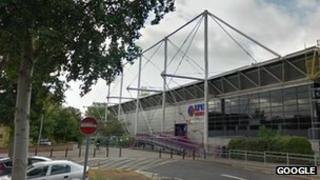 Wiltshire's only ice rink has re-opened to the public following a £700,000 refurbishment.
The Link Centre in Swindon was closed in June to replace the rink's surface and install a new refrigeration plant.
More than 7,500 litres of water was used to create the new 50mm (2in) thick ice pad at the renamed Swindon Ice Arena.
Councillor Keith Williams said the new system would be "far more efficient and suitable" to the rink's needs.
"The old plant machinery needed to be replaced and I am really pleased the refurbishment work has been completed on time," he added.
The process of creating the new ice pad involved laying and freezing 238 tonnes of sand over nine miles (14kms) of refrigerant pipes, followed by the water.
New plant machinery was also installed and is expected to save up to 25% in energy costs, the rink's management said.