BT and Talk Talk sorry over stroke victim's alarm delay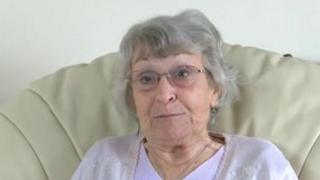 Two phone giants have apologised to a 79-year-old woman for delays in installing a phone line that was needed to make her medical alarm work.
Teresa Prater from Swindon, is prone to having falls after having had several strokes. She was left lying on the floor for four hours on one occasion as she could not activate her alarm.
Her family had been asking for five months for the line to be installed.
BT and Talk Talk have apologised for the delay in solving the problem.
'Completely incompetent'
Five months ago Mrs Prater's husband Alfie was told by Talk Talk that a line would be installed within two weeks by engineers from BT Openreach but this did not happen.
Mr Prater said: "I just think they are completely incompetent as engineers and workmen.
"If I ran my business like that I wouldn't have a business."
Mr Prater normally works away from home two days a week so is not on hand at all times to help his wife.
A spokesman for Talk Talk said it was "working with BT Openreach to investigate what went wrong".
BT Openreach said the connection had needed more excavation work than first thought.
Age UK spokesman Brian Deeley said: "A telephone is no longer a novelty or a luxury.
"It is a social and medical lifeline - never mind what the suppliers are doing in terms of their sub-contractors.
"Their primary accountability is to the people they are there to save and in this case to guard their well-being."
Work to connect the two telephone wires to ensure the alarm worked was completed earlier on Tuesday.