Salisbury Market Place revamp delay angers businesses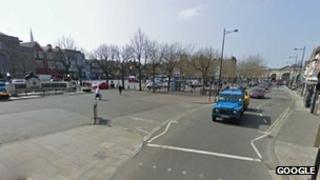 Owners of businesses surrounding the Market Place in Salisbury say they are losing valuable trade because work to revamp the area is over-running.
The work is in three phases - by the Guildhall, by the north side of the square then the south side near Ox Row.
Wiltshire Council admitted phase two was behind schedule but said all the resurfacing work would be complete by the end of September.
Patisserie shop manager Susie Milne said the work has been badly timed.
"They've chosen to do phase two right in the heat of summer when it's our busiest time," she said.
"We take a third of our yearly takings in summer - they could have postponed that [the works] and pushed it back.
"I know it'll look good in the long run, but the way they've gone about it could have been handled a lot better."
Geraldine Roberts, Reeve The Baker's assistant manager, said while the work was outside the shop they lost all the eating area.
"It was quite disruptive, the noise, dusty, dirty, people just didn't want to sit out there," she said.
"As soon as it moved on up the takings went again."
Restaurateur Phil Dauwalder said outside trade was being hit.
"We're having to rely on tourists as our regulars have been put off," said Mr Dauwalder of La Molina.
"It's nearly ruined our trade."
Richard Clewer from Wiltshire Council is responsible for the project.
He said: "We were supposed to be moving onto phase three this week but we'll actually move onto it on 24 August and the major part of the surfacing will all be resolved mid to end September."